News
Huntington Bank donates to CA
Aug 31, 2017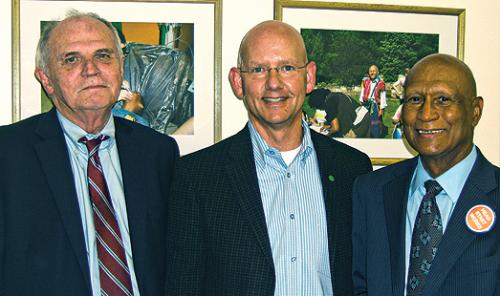 CA officials have purchased the former Woodford Elementary School at 315 East State St. to serve its 233 Head Start children in that area. On Aug. 9, Nick Browning, president for Huntington Bank in Akron, presented Malcolm Costa, president and CEO of CA, with a $15,000 check to go toward that purchase.
CA is a private, nonprofit corporation operating various programs that assist Summit County residents to become self-sufficient. For 30 years, its Head Start in Barberton was located at the Decker Family Development Center on Brady Avenue. Prior to that, Arnold School was home for Barberton Head Start. The Head Start program will have 10 classrooms this year.
According to program officials, Head Start promotes school readiness of children from birth to age 5 in low-income families and supports children's growth and development in a positive learning environment through services that include early learning, health and family well-being.
"We are grateful to Huntington Bank Foundation for their commitment to the community but especially to Community Action Akron Summit," said Costa. "Huntington Bank support demonstrates their commitment to address community needs. In this case, the C Board sees fit to use the gift to address school readiness and other services to enrolled children and families. We look forward to partnering with community interest funders to capitalize on this important opportunity."
Shown above, from left, during the check presentation are Richard Nelson, vice president and chief financial officer of CA, Browning and Costa.
Original article courtesy of Akron.com